Arctic Series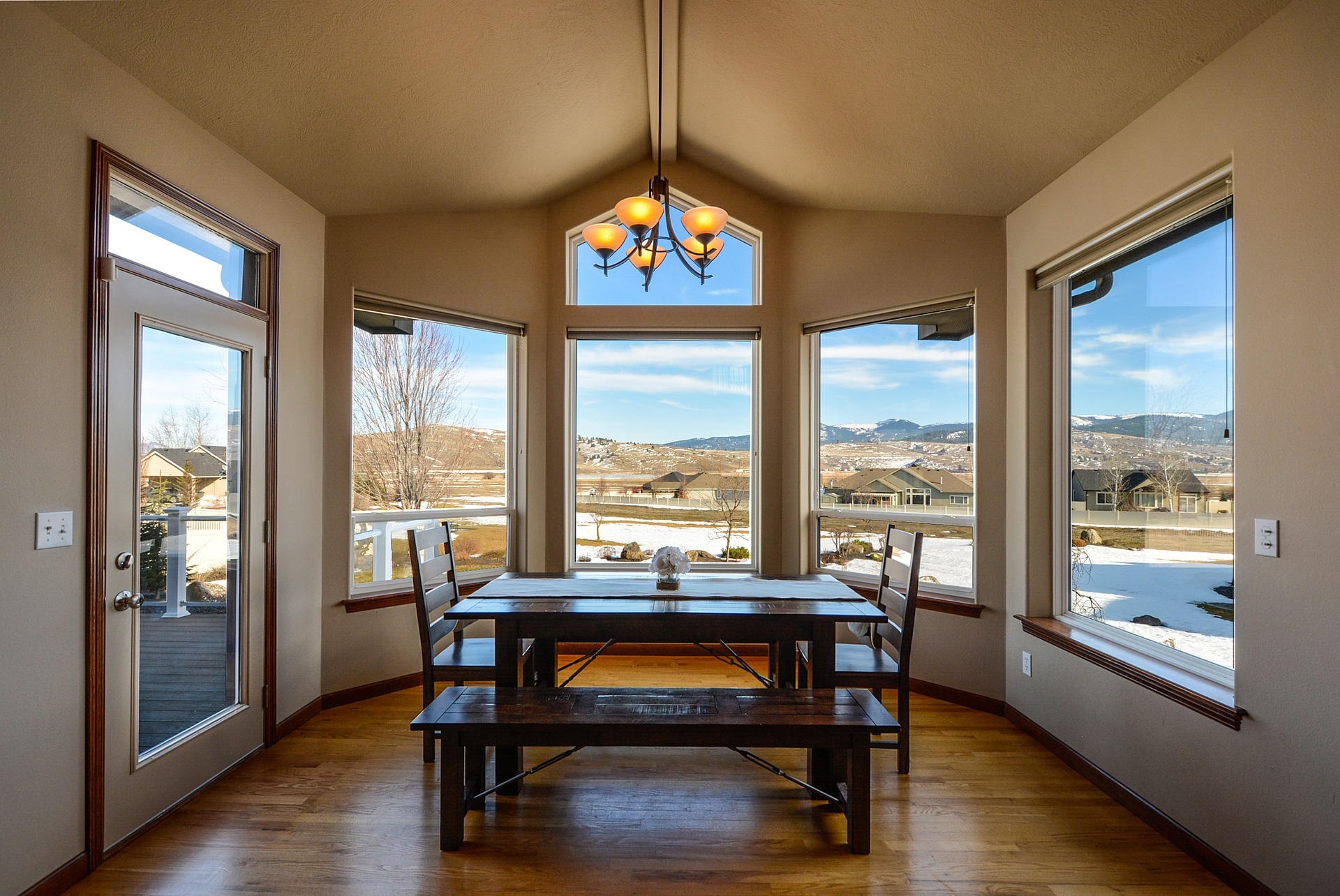 Introduction
Established in 1943, family owned and operated, Martindale Window & Door Inc. has been supplying the highest quality products and service in the window and door industry for over 75 years.
As a Windsor, Ontario, Canada based company, Martindale is constantly striving for perfection to better serve our customers. This we feel is the key to our longevity and success. That's why Martindale is one of the most progressive window and door companies in the area.
Progressive in our thinking because we have set a higher standard for ourselves. As a whole, we are not only a window and door company but a consulting company as well. Our staff has had extensive training in the field. The end result is an experienced and knowledgeable sales staff with technical expertise. We are able to examine each client's unique situation, qualify their needs, make recommendations and determine a plan of action that helps the customer make the best choice possible. Martindale will satisfy your requirements and overcome unforeseen obstacles along the way.
Features
Glass
LoE – Energy Advantage
Pilkington Energy Advantage Low-E is the best glass for most applications in a northern climate. It has a very high retention rate of the heat in your home in winter and prevents heat gain from outside in summer. Energy Advantage Glass has a higher Solar Heat Gain Coefficient (SHGC) than Low-E glass designed for more southern climates, providing free winter heat for your home. Since as much as 95% of your energy expense for heating and cooling combined is for heating, this glass is more cost effective than glass without a high SHGC.
LoE 366
Cardinal LoE 366 is recommended when cooling costs outweigh heating costs, or where summer discomfort from heat build-up is a concern. It has a lower Solar Heat Gain Coefficient (SHGC) and a very high reflection rate in order to minimize radiant outside heat, preventing heat gain in the summer while still retaining radiant heat in the winter. LoE 366 is the best glass for areas of direct sunlight and most applications in a southern climate.
Obscure Glass
Obscure glass provides an effective shield without shutting out the sun. Obscure glass is particularly useful for bathrooms, basements or along walkways. Martindale offers obscure glass in rain, glue chip, frosted or acid etch pattern.
Tempered Glass
Tempered glass offers added strength that is up to four times greater than conventional glass so that when shattered, it breaks into small pieces. It is required as safety glazing in patio doors, entrance doors, and side lights.
Triple Glazed Glass
Utilizes three panes of glass to dramatically reduce condensation and thermal transfer while insulating as much as 60% better than double-glazed windows. Martindale's optional triple-glazed windows offer incredible energy efficiency.
Argon Gas
Thermal performance is improved by replacing the air between the panes of a window with Argon gas, an inert, slow-moving gas. Argon gas helps prevent heat loss to improve energy efficiency.
Krypton Gas
Krypton gas is an inert, slow-moving gas that improves thermal performance. Denser than Argon, Krypton gas does an excellent job of preventing heat loss.
Low "E" Field test houses
Two identical houses, one has Energy Advantage High solar Heat Gain (HSHG) Low "E" the other house has Low Solar Heat Gain (LSHG) Low "E"
Across 10 different Canadian cities the HSHG saved an average 13% to 17% on energy savings vs. clear insulated glass
Winter tests show that HSHG has an 8.7% savings in natural gas costs when compared to LSHG
HSHG also had a 1.3% savings in electricity when compared to LSHG
Grills
Grills add a sense of timeless beauty or contemporary flair to any window. Whether you choose regular squares, prairie style or a custom design, our grills are available in a range of colours as well as pewter, brass or Georgian contoured styles.
SDL (Simulated Divided Lites) this method gives the look of multiple pieces of glass. The SDL bar is adhered to the glass using aircraft grade double sided tape.
SDL comes in 3 colours – white, hickory and golden oak. You can also customize the SDL bars by first priming them. This allows the SDL bar to become stainable and will enable you to stain them any colour you desire.
SDL is available in 1" and 2" applications.

Structural Reinforcement
Sometimes we are required to add extra support to strengthen large windows. We use a 7/8" composite material that is fastened between the 2 windows for increased stability. This is a good idea for large windows, especially when facing high winds.
Our reinforcement can be used vertically or horizontally to support windows above or beside. Reinforcement is required above any patio door greater than 6' that has a transom mulled above it.
Design
Our windows are maintenance free, constructed with more vinyl than most competitive brands to add strength and integrity to the frame and sash. They won't warp, crack or peel.
Multi-chamber vinyl construction, with fusion welded corners add extra insulating value, strength and a perfect seal.
The wrap around feature of the solid vinyl ridged nailing fin helps eliminate drafts, water infiltration and allows for easy and accurate installation.
A variety of colours to choose from to enhance and beautify your exterior.
3/4" Double Glazed Sealed unit maximizes the insulating value, reducing energy costs. LoE Glass reduces condensation and ultra violet rays, preventing sun bleaching of furniture, floors and window treatments.
An easier to lock and unlock multi-point locking system* holds the window sash tightly closed to the frame weather strip for the best performance against air infiltration.
Smooth contoured and compact design fold down handle* reduces interference of window coverings, with a gear ratio for easy operation and convenient for those with special needs.
Exterior Options
Standard Nail Flange
The nail flange is most commonly used on new construction homes. It pushes the window out of the house allowing a nice edge to finish the brick up against. It also allows for a larger window ledge on the inside of the house.
Brickmold
Brickmold is available in many different styles to suit your specific needs. There is also different cap and "J" channel options for easy siding applications.  The brickmold is available in 1 1/4", 1 1/2″, 2″ and 3 1/2″ widths.  All these brickmolds extend 1 3/16″ past the outside of the window.  There is also a special 1/2″ brickmold that extends 2″ past the outside face of the window.
Wood Jamb Extension / Interior Trim
Martindale Windows can be ordered with an array of different wood options.
We offer a high grade eastern white pine as a standard wood jamb for painting. Also available is: clear pine, oak, maple, mahogany and poplar. Matching interior trim is available for all full frame change replacement windows 2 3/4" trim is what we use standard, but we can source a wide variety of trim sizes.
Our jamb extensions can be ordered to fit any configuration from standard 4 9/16" walls up to 7 5/8". We also offer custom sizes to fit any application.
All our jamb extensions are 3/4" thick which allows for easier installation of casing while adding extra strength to the window.
All jambs are securely fastened by either screws or staples depending on the window.
Martindale also offers a maintenance free alternative to wood jamb extensions. They start with a wood jamb and cap it in extruded PVC vinyl that is colour matched to the inside of the window.
Drywall Return
Martindale can also provide drywall return. This product allows the customer to finish drywall into the window instead of using wood. We use a 2 step drywall return which allows for 3/4" drywall and 1/2" drywall.  The use of drywall return will also allow the customer to easily install their own wood if desired.
Colours
Martindale manufactures all of the vinyl extrusions used in the fabrication of their windows. Martindale AAMA Certified (American Architectural Manufacturers Associated) extrusions come in ten exterior colours – white, black, espresso, cocoa, sable, anthracite grey, ivory, hickory, chestnut brown and sandalwood.  Martindale also offers eight interior colours – white, black, espresso, hickory, colonial oak, paintable/stainable, light oak and walnut.  Please note not all interior colours are available with all exterior colours.
These UV resistant acrylic overlays, with an embossed wood grain texture will remain attractive for years to come.
Martindale also offers an oak interior finish for all windows and grills. This durable PVC laminate is virtually indistinguishable from real wood.
These acrylic overlays are the toughest in the industry, much tougher than any painted window system offered by other window manufacturers.
Available Exterior Colours
Available Interior Colours
Window Types
Single & Double Hung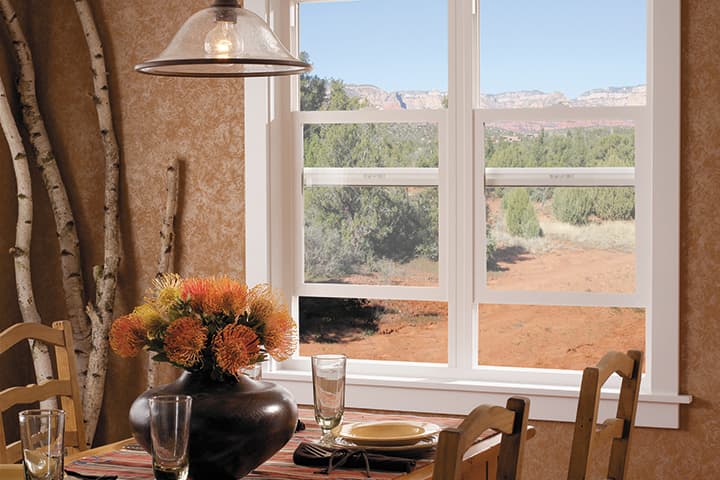 Arctic Series™ Single and Double Hung Windows are designed with a traditional architectural look, but not at the expense of performance. A spring-loaded balance system enables the sashes to operate smoothly and tilt in for easy cleaning.
Standard full or half screens are removable from the inside and triple weather-stripping prevents air infiltration allowing for year-round comfort. Arctic Series™ single Hung windows can also be customized with an offset meeting rail.
Casement Windows
Arctic Series™ Casement windows are simple yet elegant. They can be used on their own or in a combination with picture windows. The venting sash pivots for easy room-side cleaning. All casements are secured with progressive multi-point locking systems for ease of operation and security. Triple weather stripping ensures that outside elements are kept where they should be… outside!
Awning Windows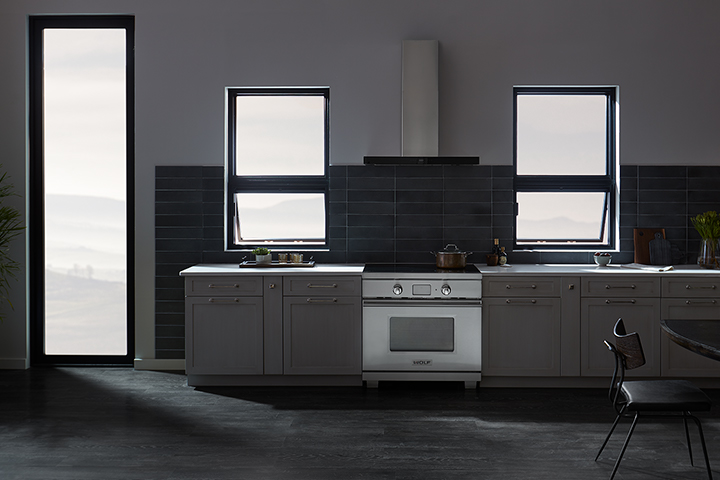 Arctic series™ awning windows are ideal for your basement. They deflect the elements while providing effective ventilation.
Side Slider Windows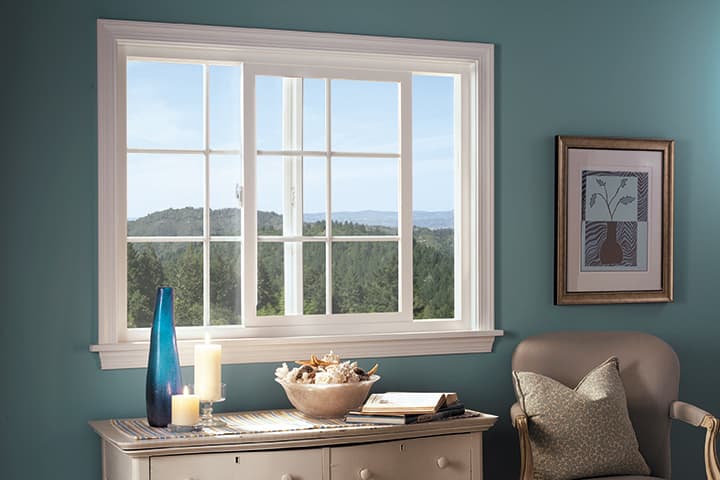 Arctic Series™ Single Slider windows deliver traditional double hung beauty with improved security, lower maintenance and higher energy efficiency. Spring-balanced movement and tilt-in sashes offer ease of motion while Low "E" glass, triple weather-stripping and Super Spacer® technology withstand extreme heat and cold.
Bay & Bow Windows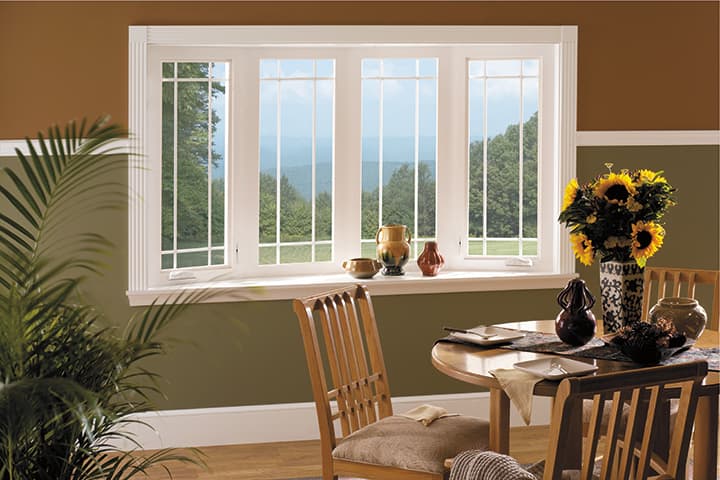 Arctic Series™ Bay windows beautify a homes exterior and flood it with natural light into interior spaces. Head and seat options include insulated or non-insulated and are available in white or oak veneer finishes.
Arctic Series™ Bow windows can make almost any opening an instant greenhouse or relaxing nook. With the same head and seat options as the bay window, you can choose which design best suits your home.
Picture Windows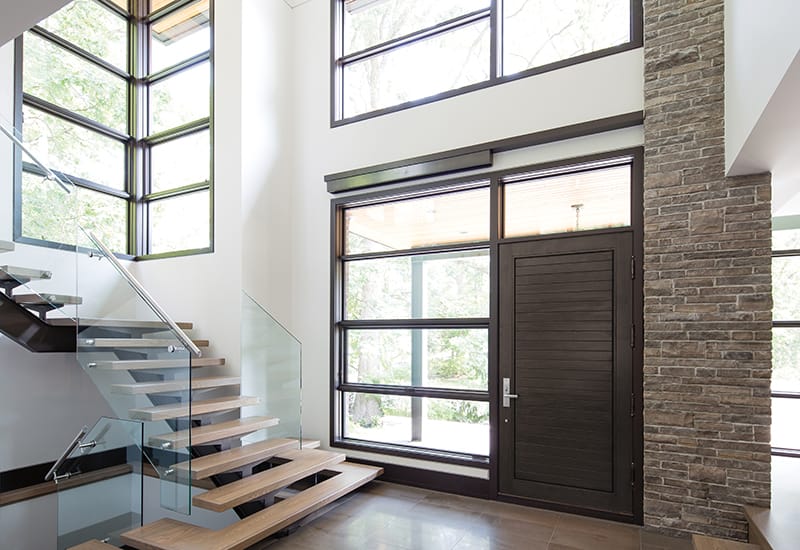 Arctic Series™ Picture Windows feature a new contoured design and increased viewing area, giving you a window to the beauty of the natural world. Nothing beats the slim, clean lines of large clear sight lines. Standard Low "E" glass and Super Spacer® technology create one of our most energy efficient and economical window styles.
Architectural Shaped Windows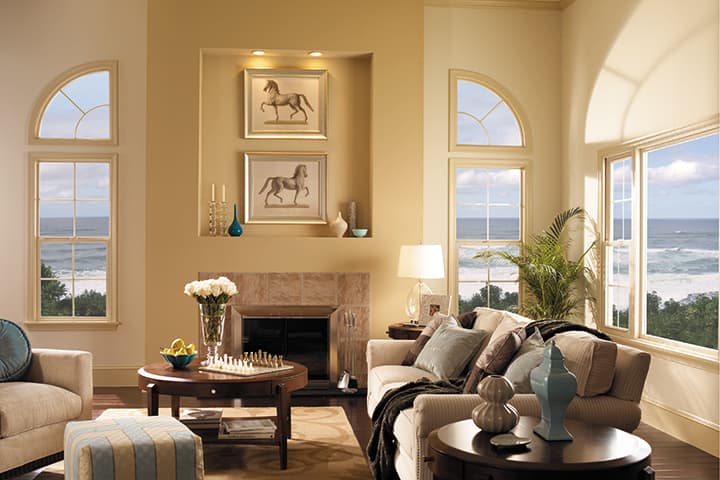 Arctic Series™ has a wide range of quality architectural windows designed for the most unique applications and installations. You can customize your home while allowing the luxury of natural light, effective ventilation and the utmost in energy efficiency.
Warranty
Martindale Arctic Warranty
Arctic series windows are warranted against such defects in material that might result in blistering, peeling, flaking, corroding of frame or sash members for the lifetime of the product from the date of installation. This warranty on the vinyl frame and vinyl sash members shall remain in effect only if normal cleaning practices are followed periodically. This warranty shall be null and void if harmful cleaning solutions or products including, but not limited to, Acetone, Petroleum Products or abrasive compounds are used.
Lifetime Warranty on Super Spacer Insulating Glass
Arctic series warrants that the insulating glass units contained in the windows will conform to the federal specification for insulating glass units fabricated from select quality glass and under normal conditions there will not be an obvious obstruction of vision, which is the result of film formation or dust collection between the interior glass surfaces, for as long as you own your home. If this should occur, Martindale will replace free of charge any defective sealed units with new sealed units including installation cost. This warranty will be void if any liquid set film or plastic film is applied to glass other than 3M Residential Window Film installed by an Authorized Dealer and subject to 3M Residential Window Film Warranty Provisions.
Lifetime Warranty on Hardware
Arctic series windows warrants the hardware will remain in good operational condition for the lifetime of the product. Should this occur, Martindale will provide new hardware free of charge.
Transferable Window Warranty
While this warranty is transferable to future owners of the property, Martindale's obligation under the warranty will continue if notice of the transfer in ownership is forwarded to Martindale within thirty (30) days of new owners taking possession of the property in question, where the warranted product is installed. Should the subsequent owner fail to notify Martindale of their intention to continue the warranty, the warranty will expire automatically without the possibility of revival, thirty (30) days after the owner takes ownership of the said property. To make a claim under this warranty, the owner must notify Martindale Window & Door Inc. within thirty (30) days after defect has first appeared. This notification must include: 1) Name and address of the owner 2) A copy of invoice and date of installation 3) A brief description of the defect for which warranty is requested.