Fiberglass Series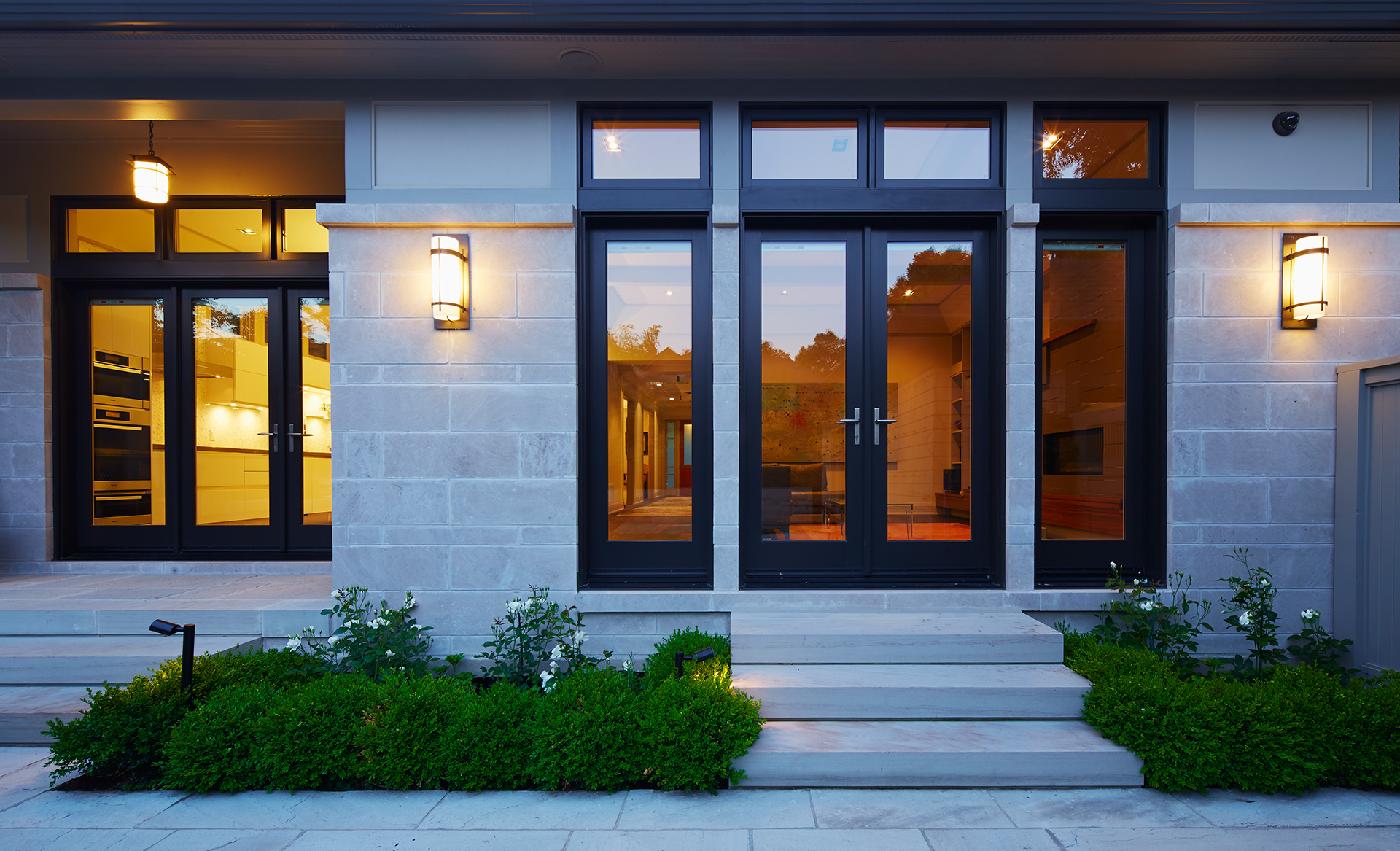 Introduction
In addition to warping, shrinking, cracking and rotting, there are other problems associated with wood. The cost and availability of quality wood today is another matter making it prohibitive; what hardwood there is comes at a high premium and much of the time it is from "second growth", making it of lesser quality than older wood.
Also the oil-based stains and sealers of yesteryear, which were far more effective but harmful to the environment but little, are rarely adequate for the longevity of the door. Hence, a door needs to be re-stained and re-sealed every 3-5 years.
Fiberglass technology has now evolved to the point where it literally has the appearance of wood; one has to knock on it to tell the difference. The inherent problems of wood are now a thing of the past and it requires virtually no maintenance. It is also far less expensive.
Because a fiberglass door does not absorb moisture as wood does, it provides superior insulation for the home allowing substantial energy savings. Another insulation feature to the Martindale door is a feature whereby the deadbolt is thrown; ramps push outward sealing the door to the weather strip.
Contractors and installers also appreciate these doors, as installation is simpler. This especially becomes important with larger doors.
Because of their durability and longevity, there are few to no callbacks once the doors are installed.
Fiberglass doors themselves have been around for about 15 years.
The most recent development which makes them very attractive for homeowners is the fact that fiberglass frames are now manufactured as an exact match to the doors; fiberglass doors no longer have to be hung in wood frames. There are also a much wider variety of designs available and they now can be fitted with sidelites, transoms and even leaded glass panels as wooden doors can.
Fiberglass systems have also eliminated the need for double-doors for expansive entries. Wood, because it can expand, contract and especially warp, would not support a very wide single door. Since these systems are so stable, a 42-inch-wide 8-foothigh with true divided sidelights give the grand entrance customers are looking for without the requirement of a double-door.
And of course another benefit of fiberglass doors is to the environment: they help save our forests.
But in the final analysis, it's the appearance that's going to make or break the choice of a front door and the new fiberglass doors have obviously made the grade.
Fiberglass Opens the Door to Cost-Effective Entry Options
Pricy wooden door systems are now being replaced by less expensive and sturdier fiberglass-and you can hardly tell the difference.
While wooden front-entry doors have been staple for hundreds of years, they certainly have had their problems. They require regular maintenance, especially if there are any extremes of heat, cold or precipitation. Temperature variations cause them to swell and shrink, creating problems with normal opening and closing. They're not well-insulated. Last but not least, they're not cheap. In the 21st century, however, there is finally a cost-effective and durable alternative – fiberglass door system.
"People want the beauty of a wooden door" says Len Martindale, owner and general manager of Martindale Window and Door, provider of a new line of fiberglass systems. "They can now get that in a fiberglass door system which provides real insulation, does not expand or contract from the heat and cold, requires no maintenance and costs half to two-thirds the price of a wooden door." Appearance wise, these new systems are also nearly indistinguishable from their wooden counterparts-a person literally has to walk up and feel it to tell the difference. These new systems will accept any stain of any colour, light, dark or medium and in fact are easier to stain than wood.
Fiberglass door systems are also more durable, and don't chip, dent or scratch as easily as wooden doors. Due to their fiberglass composition, they are also not susceptible to moisture invasion. Depending on conditions, a wooden door may need to be replaced in as little as 5 years, whereas a fiberglass systems lasts 40 years or longer.
As to security, there is almost no comparison. The standard wooden door normally has a single lock system on the center edge, whereas the fiberglass door systems secure in 3 different places: at the top, centre and the bottom of the door as well.
When the door is locked, a roller bearing also presses the door tighter to the weather stripping at the top and bottom, sealing it. This is an additional weather-proofing feature. Traditional wooden doors are fitted tightly to the weather stripping, it will be hard to operate in various temperature extremes or in severe dampness.
Hence, air enters through gaps in the top and bottom of the door. The fiberglass models end this problem.
Another improvement over older fiberglass models is the addition of a fiberglass frame. Previously, a fiberglass door would have to be hung in a wooden frame, but with the new systems, frames can be matched to doors stylistically and can be stained to match the door. And like the door, the frame is maintenance-free.
As with wooden doors, these doors are available with a wide variety and arrangement of window panels. Sidelights, transoms and even leaded glass panels are available.
Due to the price difference, higher-end doors with such added elements such as window panels are now more in reach for the average consumer, that typically might only appear on more affluent residences. "One woman who was building a home recently fell in love with a wide fiberglass door system," Martindale relates. "When she saw the price, she had to have it, and bought it. The home she was building was only a $250,000 home and normally a door like that would be seen on a house $500,000 and up. So finer door systems are now within reach for everyone."
Along with the lower price, of course comes the added advantage of the much-longer lifespan and durability of the door.
Fiberglass systems have also eliminated the need for doubledoors for expansive entries. Wood, because it can expand, contract and especially warp, would not support a very wide single door. Since these systems are so stable, a 42-inchwide 8 foot high with true divided side lights give the grand entrance these customers are looking for.
Many stock designs are available, but systems can also be fullycustomized to specifications. As to ease of installation, the new fiberglass systems come pre-hung, so they are as easy or easier to install than their wooden counterparts.
Fiberglass has truly opened the door tolonger-lasting and more costeffective entryway systems. Wood doors need to be re-stained and re-sealed every 3-5 years whereas a Fiberglass door requires no maintenance and is far less expensive.
Fiberglass doors do not absorb moisture as wood does therefore providing superior insulation for the home and allowing substantial energy savings.
Fiberglass doors have been around for about 15 years and now have a wider variety of designs available to the consumer. They can be fitted with sidelights, transoms and even leaded glass panels.
The tough resilient fiberglass frame affords security similar to steel but will not corrode. The doors will not bow, warp, crack, splinter, scratch, dent or rust as with wood or steel.
Fiberglass doors are far more durable than wood – with little to no maintenance it can last the life of the home as opposed to an average of 5 years a wooden door can survive until it needs a complete overhaul.
Fiberglass doors are far more secure than the standard wooden door.
Martindale Frames
Our Fiberglass frames will match fiberglass doors to complete a total elegant rich wood look without any of the problems that can occur with wood frames. Composite Fiberglass frame matches the doors.
Fiberglass Frames
An innovative new alternative to traditional wood door frames. After extensive research and development, we have formulated a poly-fiber door frame system that combines all the strength and convenience of wood with enhanced properties that make it moisture, rot and insect resistant, with the added beauty of wood. This unique formulation means that they will not absorb moisture and will never warp, splinter, or rot. And the system can be machined the same way as traditional wood frames with no added hassles. These frames guarantee a long-lasting, rot-free entryway that will maintain its integrity for a lifetime.
Wood Frames
Traditional wood door frames are made of Finger Joint Pine. They are designed to enhance structural properties, reduce warping and ensure years of trouble-free performance.
Aluminum Frames
Designed with the same Finger Joint Pine Frames. Cladded with prefinished heavy extruded aluminum. These frames will ensure a maintenance-free durable exterior finish and will allow any of our vinyl window products to be mulled as sidelites or transoms.
Features
With Distinction Doors, you'll never have to worry about our product failing to meet your standards or the test of time.
Special Hydroshield Technology™ features a waterproof surround that protects the entire door from rotting, warping or rusting.
Triple pane decorative glass provides excellent thermal insulation.
Unlike steel doors, Fiberglass is unmarred by the wear and tear of everyday use and is unaffected by moisture and humidity.
Extended 20″ lock block resists forced entry. Our extended lock block adds security and peace of mind to your Distinction Door.
Beautifully detailed architectural panels. Distinction Doors are designed with traditional architectural proportions. That means deeper shadow lines and better curb appeal.
Waterproof composite stiles. Distinction Doors use a nonporous composite edge instead of a regular wood edge so it will never rot or warp.
Insulated core. Our environmentally – friendly insulation provides high R-value for maximum thermal protection.
Waterproof composite top and bottom rails. Extra nonporous protection keeps water from seeping into the door.
Multi-Point Locking System
Multi-Point hardware system provides more than just security… it offers homeowners better door closure and sealing than a single point lock. Featuring a durable and ergonomic design that allows for easy door operation. I-beam construction incorporates greater strength, stiffness and security into the complete lock system.
It's performance exceeds most industry standard security requirements. Once the door is fabricated the lockset is 'let-in' and held securely into place with six mounting screws.
Varieties of handle sets and finishes available for your unique door or we can match a custom design to your needs. Security and functionality are paramount when choosing door hardware, and you'll find both in a truly innovative Multi-Point hardware solution from Martindale Window and Door.
Lock Features
Added security – all 3 points latch and all 3 points deadbolt (1″ throw)
Release of the latch and deadbolt is a single downward movement (Intuitive North American Function)
Roller construction for easy low force operation
Excellent impact testing performance
Excellent cycle testing performance
Top and bottom latch design allows for door misalignment and 3/16″ pull-in when deadbolted
Soild brass 5-pin cylinder with Weiser keyway, may be customer re-keyed to Kwikset, Master or Weslock
Deadbolts include anti-saw hardened steel pin
Standard heights for 6'8, 8'0″ door applications – custom heights available
Handle Set Features
Variety of styles and finishes available
Visual locked/unlocked indication – 90° thumb-turn rotation
Solid brass strikeplates and faceplates
Trim sets can drive our multi-point or traditional latch and deadbolt
Exclusive series of art-grade
Solid bronze handles available
System Features
Proven design and reliablity (over 10 years of field operation)
Designed and manufactured in the U.S.A.
10 year residential limited warranty on materials and workmanship
Colours
Martindale offers different colours for our fiberglass door systems. We can paint the exterior and/or interior of your door panel to match all our vinyl windows.
We can also stain the fiberglass doors to resemble real wood.
Available Colours
Door Types
Rustic Mahogany
Warranty
Entrance Door Warranty
Martindale fiberglass door panels are warranted against such defects in material that might result in blistering or deterioration of fiberglass skin. These types of doors are warranted against other defects in material such as delamination or warping beyond industry standards of 1/4″.
Fiberglass Composite Frame
Martindale fiberglass door frames are warranted against such defects in material that might result in blistering or corrosion of painted exterior.
All fiberglass composite frames must be installed into steel or timberstrand stud opening all else will void warranty.
All door frames and door panels must be painted with two coats of finish paint or stained and sealed. Door panels must be finished on all six sides.
The warranty period is for Ten (10) Years from date of delivery. This warranty will become null and void if harmful cleaning solutions or abrasive compounds are used as well door frames must be installed in strict accordance with guidelines that are plumb, square, shimmed and properly secured on sides and top with a bead of sealant between bottom of sill and sub floor.
Door Lite Glass and Frame
Door lite glass and frame warranty is the responsibility of the door lite manufacture. As Martindale deals with many suppliers to be able to facilitate a vast array of designs and styles required by customer demand.
Labor cost of repair for the above warranty is covered for one (1) year from date of delivery. Martindale will not be responsible for cost of finishing or installation, Martindale's maximum liability is limited to the amount of the original purchase price.
To make a claim under this warranty, the owner must notify Martindale Window & Door Inc. within thirty (30) days after defect has first appeared. This notification must include:
Name and address of the owner
A copy of invoice and date of installation
A brief description of the defect for which warranty is requested
Effective Nov 1, 2005